Heinz-Günther Nesselrath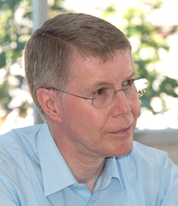 Heinz-Günther Nesselrath studied Classical Philology and Ancient History at the University of Cologne, where he got his Ph.D. in 1981 and habilitated in 1987. Since 2001 he has been Full Professor of Classics at Georg August University, Göttingen.
His main fields of research are Greek Comedy, Greek Historiography and Greek literature of Roman Imperial Times and late Antiquity.
He currently works on a bilingual edition of the church historian Socrates of Constantinople and a new critical edition (for OCT) of Lucian of Samosata.