Otta Wenskus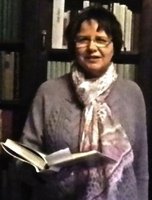 Otta Wenskus is Professor at the Institute for Languages and Literature (Greek and Latin Philology) at the University of Innsbruck.
Her main research interests are the history of science, contact linguistics, gender studies, and the reception of classical literature in fantasy and science fiction (especially Star Trek).
Otta Wenskus' publications include Astronomische Zeitangaben von Homer bis Theophrast. Hermes Einzelschriften 55. Stuttgart 1990; "DARMOK. Gilgamesch und Homer in Star Trek: The Next Generation", in: R. Rollinger / B. Truschnegg (eds., 2006) Altertum und Mittelmeerraum: Die antike Welt diesseits und jenseits der Levante. Stuttgart: 789-806; "Sharon Creech, Absolutely Normal Chaos: ein Fall gelungener Homerrezeption", in: M. Korenjak / S. Tilg (eds., 2007). Pontes IV. Die Antike in der Alltagskultur der Gegenwart. Innsbruck: 61-70; and "Die Siebzehn als kritische Zahl", in: F. Schaffenrath (ed., 2008). Silius Italicus. Akten der Innsbrucker Tagung vom 19.-21. Juni 2008. Frankfurt a.M.: 97-98.