Simon Zuenelli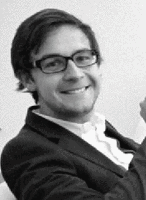 Simon Zuenelli studied Classical Languages and Literature at Innsbruck University, where he also wrote his dissertation, a literary commentary on Book 12 of the Dionysiaca of Nonnus of Panopolis in 2014.
From 2009 to 2014 he held the position of Research Assistantat Innsbruck University before he was appointed Senior Scientist in 2014.
Simon Zuenelli is responsible for the Anzeiger für die Altertumswissenschaft as general editor. He is also co-editor (together with Martin Korenjak) of Pontes VIII. Supplemente antiker Literatur (Freiburg 2016).
His main research interests include the Imperial and Late Ancient Greek epic (especially Nonnus of Panopolis) and literary paratexts. In his next project Simon Zuenelli plans to investigate the subgenre of the ancient Greek book epigram (i.e. literary inscriptions on books).