Christiane Reitz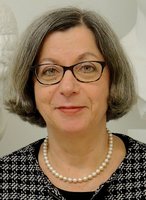 Christiane Reitz studied Classics and Comparative Linguistics at the universities of Bonn and Heidelberg. After working as Assistant Professor and Lecturer at the University of Mannheim as well as Deputy Chair at the universities of Gießen and Heidelberg, Christiane Reitz became Chair of Classics at the University of Rostock in 2000.
She has continuously worked on epic poetry and its individual structural components.
Besides Roman and Greek epic poetry her main research interests are reception and transmission history of ancient literature, as well as authors of specialist literature. She is one of the editors of the series "Litora Classica" (VML-Verlag) and "Hypomnemata" (Vandenhoeck und Ruprecht) and has recently initiated and edited several companions: (with N. Hömke) Lucan's Bellum Civile between epic tradition and aesthetic innovation. Berlin/New York 2010; (with N. Kramer) Tradition und Erneuerung. Mediale Strategien in der Zeit der Flavier. Berlin/New York 2010, (with M. Horster) Condensing texts – condensed texts, Stuttgart 2010; (with A. Walter) Von Ursachen sprechen. Eine aitiologische Spurensuche. Telling origins. On the lookout for aetiology, Hildesheim 2014.
From 2004 until 2014 she worked as liaison professor for the German National Merit Foundation. Christiane Reitz received a teaching award from the federal state of Baden-Württemberg in 1997 and from the University of Rostock (together with Lorenz Winkler-Horaček) in 2007. Since 2009 she has been a member of the Selection Committee of the Alexander von Humboldt Foundation, from 2007 until 2009 she was Chair and from 2009 until 2011 Vice Chair of the Mommsen-Gesellschaft and from 2014 onwards she has been Vice President of the FIEC.